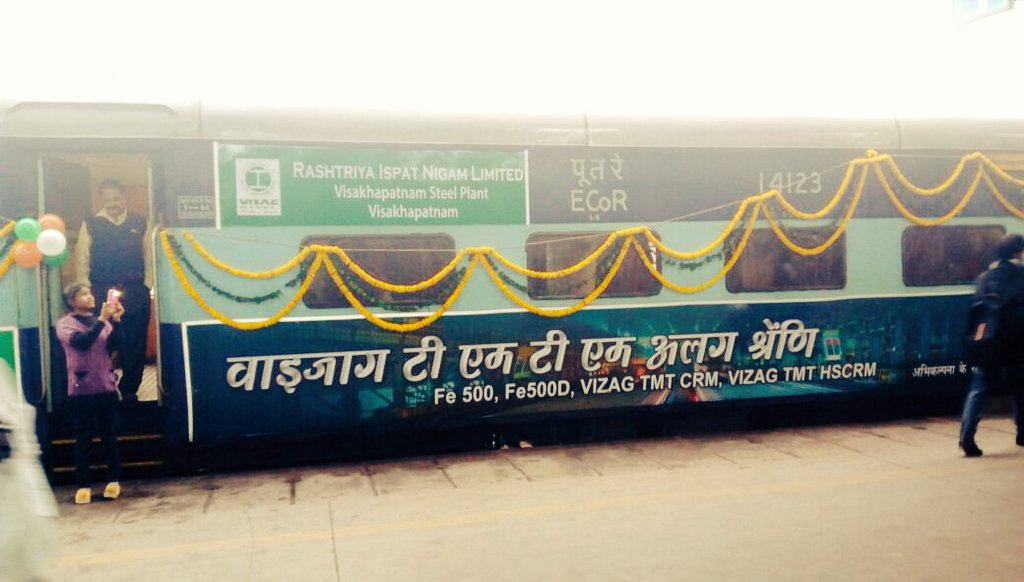 Shri Suresh Prabhakar Prabhu, Hon'ble Minister for Railways and Chaudhary Birender Singh, Hon'ble Minister for Steel, Govt. of India flagged off the re-branded Train No. 12807/12808 Visakhapatnam-H. Nizamuddin Samta Express train (Daily) with a new name Vizag Steel Samata Express from H. Nizamuddin station at a simple ceremony there. The train donned a vinyl wrapping sporting promotional visuals of Vizag Steel( Brand name of Rashtriya Ispat Nigam Ltd. a PSU under Ministry of Steel). This marketing initiative is expected the Railway's endeavor to boost its non-fare revenue. Senior Executives present on the occasion include Shri Devesh Mishra, Chief Commercial Manager, Northern Railway, Shri Arun Arora, Divisional Railway Manager, Delhi, Northern Railway, Shri P Madhusudan, Chief Managing Director, RINL and senior officers of Northern Railway and RINL.
Waltair Division of East Coast Railway has entered into an agreement with RINL, Visakhapatnam for branding of Samta Express (12807/12808) and Swarna Jayanti Express(12803/12804) for a period of one year on payment of license fee of Rs. One crore per rake. Accordingly, the division has received a license fee of Rs. 4 cr for four rakes. Under this agreement, the train will be renamed pre-fixing the name of Vizag Steel and carry advertisements of RINL products and its brands through the vinyl wrapping.
Addressing the gathering, Shri Prabhu stated that other Public Sector enterprises should also avail the benefits of promotion of their products through Indian Railways with its vast reach, unmatched to any other medium. Commending Vizag Steel for taking proactive steps by effectively channeling its marketing efforts with a structured brand promotion activity, Chaudhary Birender Singh stated that undertaking such initiatives would not only help Vizag Steel extend its market reach to both urban and rural markets, but would also go a long way in increasing the nation's per capita steel consumption from 61 kg to the global level of 208 kg, as envisaged by the Steel Ministry.